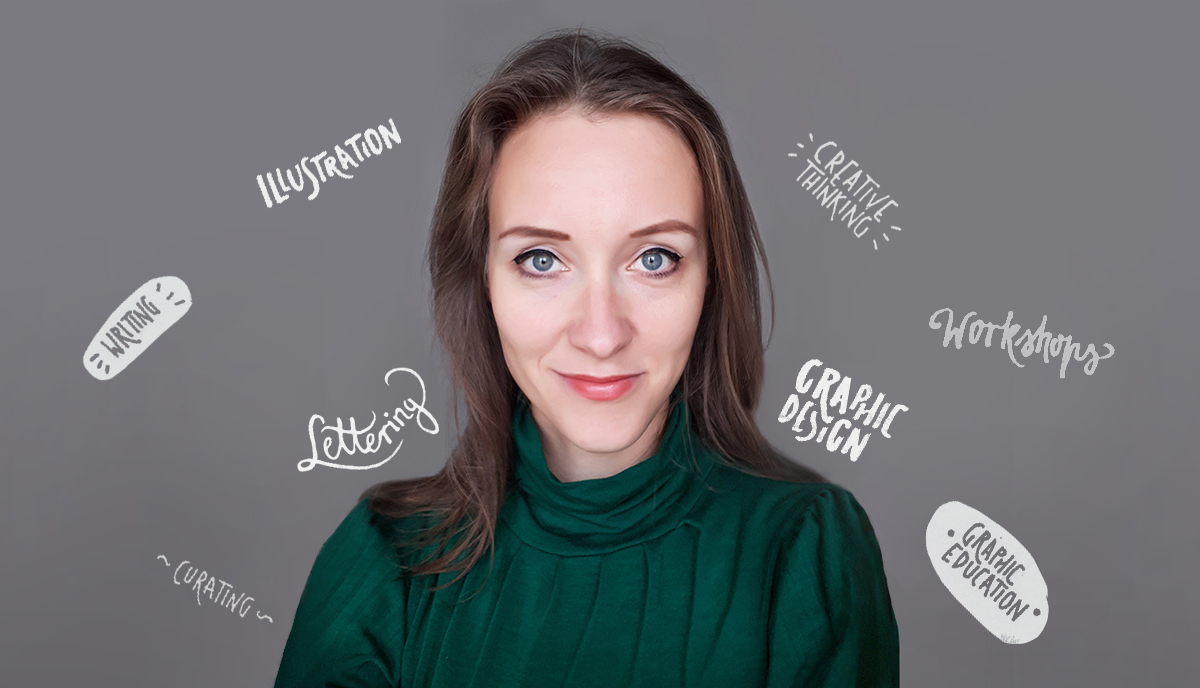 I'm Magda Koscianska, the owner of Magic Suitcase. I'm an independent illustrator and graphic designer  based in Western Poland but I create my works for brands and people in many countries. I'm skilled in various types of techniques and media, manual as well as digital - and I combine my skills with pleasure in various kinds of projects. Here, in Magic Suitcase you can find chosen examples of them. 
If you want to ask me something, hire me for your project, start some new great collab (or if you just would like to say "hello") - please contact me: magic00suitcase@gmail.com! 
I mainly illustrate, make graphic projects, collaborate with brands and institutions. I also educate & write about art, culture, design and creative actions.

If you need an illustration, a poster, package, branding project, even hand painted object or customized hand lettering - here I am!

Click on the bookmarks above and see what I can do.
I organize workshops and exhibitions (I was the curator of illustrative exhibition "Cross the b/order", together with Piotr Czech - see photos and concept here), I am also the creator and owner of an online educational website "Wyobrazniej! Visual education" - wyobrazniej.pl (texts in Polish).
WHERE my projects were shown, published and awarded?
Chosen publications and prizes:
Finalist of the San Diego Latino Film Festival Poster Competition, 2017 (project - here) 
Scholarship of the Minister of Culture and National Heritage, 2017 - a six-month sholarship for the project "Wyobrazniej! Visual Education" (more - here)
Artistic Scholarship of the City of Zielona Góra, 2016
Main Prize in Type Faces Competition organized by Arctic Paper, Perfekt and Heidelberg, 2016 (more - here)
Wall paintings shown in the album "Art on the Wall" by Dopress, Shenyang 2014  (project - here)
Prize in Gold Panda Cartoon Contest - participation in exhibition, Bejing 2014
Bicycle acessories published in the book "Two Wheels" by Index Book, Barcelona 2013 (project - here)
2nd prize in Lanolips Beauty Box Artist Competition, Australia 2012 (project - here)
Cross the b/order, BWA Zielona Gora, 2017
Participation in 25th Exhibition of Wroclaw Graphics, Wroclaw 2016
"Przeliterowane" - individual exhibition in Salony Foundation, Zielona Gora 2016
Participation in Mostar Street Arts Festival, Mostar 2016
Participation in the International Biennale of Urban Art OUT OF STH, Wroclaw - presentation "Two wheels and the power of imagination" + workshop for children, 2014
"Postcards from Spain" - individual exhibition, Salony Foundation, Zielona Gora 2014
The Magic Suitcase - solo show in "The Glass Trap" Media Library in Zielona Gora, 2013
WHO also collaborated with me?
Collabs - writing and workshops:
Salony Foundation (residence; individual and collective exhibitions), BWA Zielona Gora, BWA Wroclaw, BWA Jelenia Gora, Pracownia Stary Mlyn (The Old Mill Workshop in Szczecin), Poster Poster, Rue Marcellin, Blog Rowerowy (Bicycle Blog), Lubuski Theater, Mostar Street Arts Festival (wall painting + workshops for kids)...
...for more - check projects in this portfolio!
I love to listen to good music, to travel, ride a bike, eat pancakes and other good vegetarian food. Everything may become my inspiration - especially Spanish colour mood and patterns or Russian decorative ornaments. I'm also a great fan of playful & useful, unique ceramics. 
Oh, and I have a little assistant - cat named Richard (

#assistantrichard

), who is always there for me, especially when there's an opportunity to sit on my papers or play with a rubber. Of course, I gladly collaborate with some more serious partners (sorry, Richard) so let's meet!